Lucas Jeno, John-Arvid Grytnes and Vigdis Vandvik have recently published the article "The effect of a mobile-application tool on biology students' motivation and achievement in species identification: A Self-Determination Theory perspective".
A new research published by researchers at bioCEED has found that using an app (ArtsApp) to identify sedges helps students correctly identify more species, than using the traditional textbook method. Results of the experiment with 70 students from BIO revealed that the students found identifying species more interesting and enjoyable when using a smartphone or tablet. The students felt that they also were more competent after using the app than when using the book. These results are important because when students are undergraduate, identifying species could be difficult and uninteresting. By using modern technology, the teachers could enhance the students´ interest and learning in ways that perhaps is not possible when using a textbook. The study was published online in Computers & Education in December 2016 (see link below).
Abstract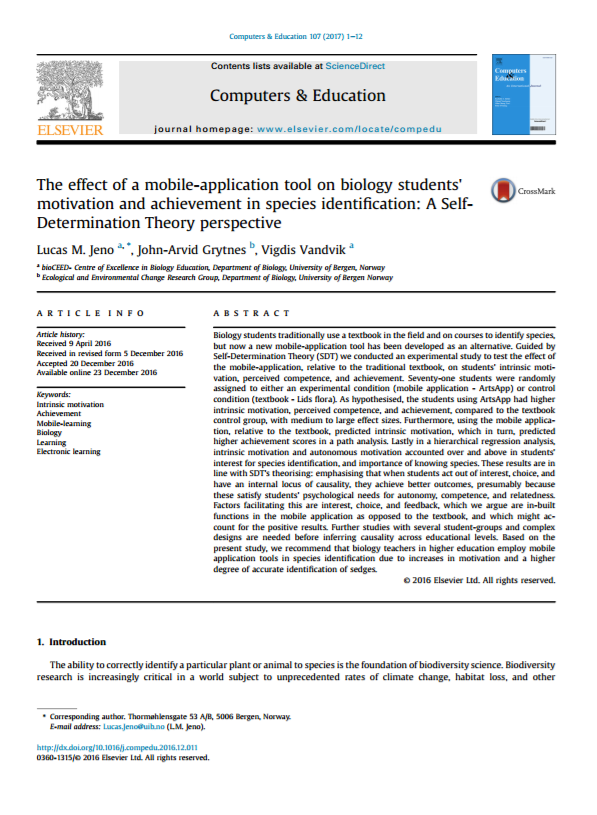 Biology students traditionally use a textbook in the field and on courses to identify species, but now a new mobile-application tool has been developed as an alternative. Guided by Self-Determination Theory (SDT) we conducted an experimental study to test the effect of the mobile-application, relative to the traditional textbook, on students' intrinsic motivation, perceived competence, and achievement. Seventy-one students were randomly assigned to either an experimental condition (mobile application – ArtsApp) or control condition (textbook – Lids flora). As hypothesised, the students using ArtsApp had higher intrinsic motivation, perceived competence, and achievement, compared to the textbook control group, with medium to large effect sizes. Furthermore, using the mobile application, relative to the textbook, predicted intrinsic motivation, which in turn, predicted higher achievement scores in a path analysis. Lastly in a hierarchical regression analysis, intrinsic motivation and autonomous motivation accounted over and above in students' interest for species identification, and importance of knowing species. These results are in line with SDT's theorising: emphasising that when students act out of interest, choice, and have an internal locus of causality, they achieve better outcomes, presumably because these satisfy students' psychological needs for autonomy, competence, and relatedness. Factors facilitating this are interest, choice, and feedback, which we argue are in-built functions in the mobile application as opposed to the textbook, and which might account for the positive results. Further studies with several student-groups and complex designs are needed before inferring causality across educational levels. Based on the present study, we recommend that biology teachers in higher education employ mobile application tools in species identification due to increases in motivation and a higher degree of accurate identification of sedges.
Reference and link to the article
Jeno, L. M., Grytnes, J.-A. and Vandvik, V. (2015). The effect of a mobile-application tool on biology students' motivation and achievement in species identification: A Self-Determination Theory perspective. Computers and Education, 107, 1-12
About the author
[simple-staff-list group="LJ"]