Lucas M. Jeno (Department of Education, University of Bergen and bioCEED), Maï Yasué  (Quest University, Canada) and Jody L. Langdon (Georgia Southern University) have recently published the paper "Are Autonomously Motivated University Instructors More Autonomy-Supportive Teachers?" in the International journal for the Scholarship of Teaching and Learning.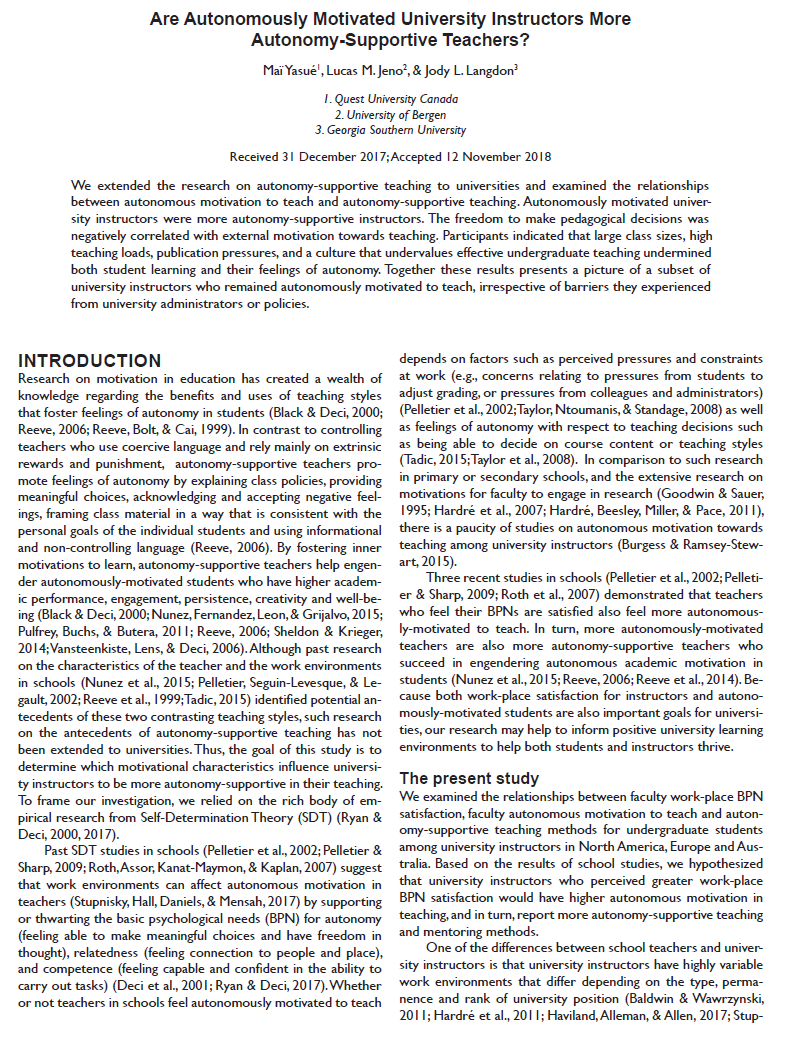 Abstract
We extended the research on autonomy-supportive teaching to universities and examined the relationships between autonomous motivation to teach and autonomy-supportive teaching. Autonomously motivated university instructors were more autonomy-supportive instructors. The freedom to make pedagogical decisions was negatively correlated with external motivation towards teaching. Participants indicated that large class sizes, high teaching loads, publication pressures, and a culture that undervalues effective undergraduate teaching undermined both student learning and their feelings of autonomy. Together these results presents a picture of a subset of university instructors who remained autonomously motivated to teach, irrespective of barriers they experienced from university administrators or policies.
Keywords: Self-Determination Theory, Intrinsic Motivation, Undergraduate, Mixed-methods.
Reference and link to the article
Yasué, M., Jeno, L. M., and Langdon, J. L. (2019). Are Autonomously Motivated University Instructors More Autonomy-Supportive Teachers? IJ-SoTL, Vol. 13 [2019], No. 2, Art. 2
About the author
[simple-staff-list group="LJ"]