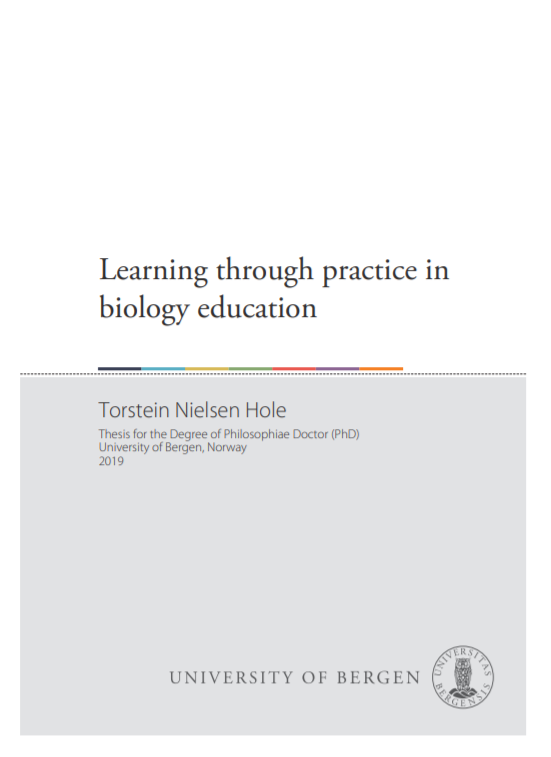 April 25th 2019 Torstein N. Hole successfully defended his doctoral dissertation "Learning through practice in biology education" and completed his PhD degree at the University of Bergen!
ABSTRACT
Work continues to be an important educational measure in higher education. It has received increasing focus both among policymakers, educators, and in educational science research as a valuable addition to campus-based, and often lecture-based, education. In biology, work placements are rarely employed, and the workplaces that are available to students are multifaceted and the distinction between practices at campus and practices at work may seem oblique at the outset. Both include sampling, analysis, and reporting of results. In other words, work as a learning measure in scientific disciplines is different from work in professional educations.
In this thesis, I investigate learning through work in higher education, principally among biology students. The investigation is performed through three independent studies. In the first study, I examine students' working practices in a field excursion using ethnographic techniques. The second study focus on a work placement course for biology students, and data was gathered through their blog entries. The third study consists of focus group interviews of students in Teacher education, Music Performance, and Aqua Medicine, a sub-program in biology that employs work placements. The third study allowed for a broader overview of other iterations of learning through work in several programs. In all studies, the aim was to gather students' accounts of their knowing in enacting practices. Furthermore, the analysis focused, at various levels, on students' accounts of personal epistemologies inside a sociocultural practice.
The analysis of interviews, focus group discussions, observations, and blog entries reveal important similarities between the way students enact biology through working practices in different contexts. These similarities concerned epistemological perception of learning in campus and complex learning in practices, such as those in workplaces and the field. At different levels, these complexities require students to make decisions whether in their sampling, and to gather necessary information to be able to complete their work. Furthermore, the different studies revealed different levels of engagement between students, teachers, supervisors, and others. In field excursions, students engage continuously with teachers, while they engage more continuously with supervisors and co-workers in work placements. Nevertheless, on the basis of students' accounts, I argue that the role of teachers is crucial for the students' experiences. Whether this is direct engagements between teachers and students, or their overall facilitation of learning at campus and how it interacts with students' experiences and personal epistemologies in work.
By using varied expressions of knowing in the analysis of students' accounts of knowing in working practices, we found that dispositions, procedures, and concepts interact throughout students' work. This indicates that practices involve important experiences that affect students' outlook towards their own engagement with biology, and the disposition to pursue particular methods, careers, and otherwise intersect their working practice with their values. On its own, these are important contributions of work placement- and field excursion practices in biology students' education.
Link to the thesis
About the author
[simple-staff-list group="TH"]